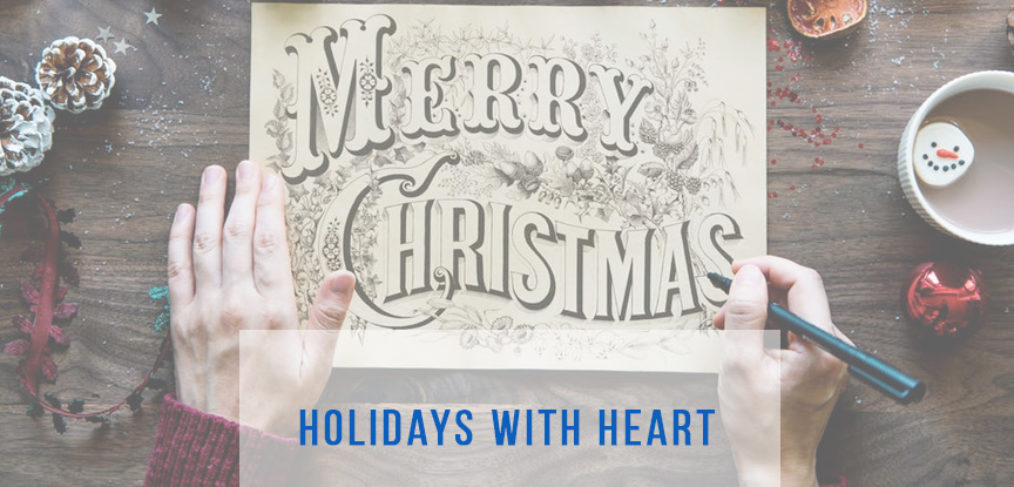 Holidays with Heart: Planning a Christmas of experiences, not things
The holidays are here and already heads are spinning with the thought of all the shopping, presents, parties, and "things" that will take over the four weeks. Before you know it, the season will be over, we'll all be exhausted, and wondering where did the time go? And how did my bank balance get so low?!
Christmas time doesn't have to leave you feeling broke, overwhelmed, and seriously holiday-crazed. All it takes is focus, a dash of creativity, and selective planning to create a holiday filled with heart that you'll remember with joy and pleasure when the New Year rolls in.
Focusing on what is near and dear to you and your loved ones is the first step for creating holidays with heart. Instead of filling all your free time with making lists, going shopping, and amassing lots of "stuff," take some time at the beginning of the season to talk to your friends and family and decide on what is most important for them. Children will treasure time and attention more than the latest gadgets, so schedule an afternoon of cookie decorating or plan a day around finding and decorating the perfect tree accompanied by hot cocoa, treats and a warm, cozy afternoon together. If get-togethers with friends are few and far between, they might appreciate a similar gift of your time, rather than candles, scarves or more chocolates they'll just feel guilty about. Coordinate an extended happy hour at your favorite gathering spot. Host a gift-wrapping and crafting party. Or spend an evening watching Hallmark Christmas movies, reminiscing or making plans for the NewYear.
The holidays can get pretty expensive if you're not careful. But did you know that creativity can be the key to a healthy bank account? OK, and it makes for some pretty spectacular ways to share joy and appreciation for family and friends during the holidays as well. Living in Alaska provides both natural resources and inspiration for homemade gifts that are far better than anything you can get on Amazon. Whether you're a natural-born Martha Stewart or someone who relies on Pinterest for crafting guidance, all it takes is a walk in nature and a trip to the home-improvement store and you'll wow people with the thought that you created something unique and special just for them.
And finally, selective planning is a great way to keep the holidays from getting overwhelming. Start by choosing only a few of your favorite events to attend and sticking to your guns. Make the holidays a time of joyful moments and creating memories that last, rather than a Christmas of stuff.
Need some ideas for local Christmas and winter holiday events in the Anchorage and Eagle River area? Be sure to check these out:
Ice Skating: There's something about strapping on a pair of skates that makes the holidays finally feel official. Outdoor ice skating rinks are common throughout Alaska, and you just can't beat the view. It's like being in a real-life Christmas card! Check out your local spots, or look into Westchester Lagoon in Anchorage.
Build a Snowman: There's no shortage of snow for creating your own Frosty and his extended family if you want. Make it feel extra special by visiting a thrift or dollar store to stock up on accessories such as hats, vests, scarves, gloves, and fun items for eyes, nose and mouth.
Take in a Holiday Show: Performing arts centers in most major cities present Charles Dickens' A Christmas Carol every year, including at Anchorage's Alaska Center for the Performing Arts.
Visit Christmas Towne: The Boy Scout camp in Chugiak is converted into a fun, free holiday destination for both children and adults. Kids can spend an hour making Santa's favorite Christmas treat with Mrs. Claus in the kitchen and later create custom handprint ornaments with Santa Claus himself!
See the Zoo Lights: The Alaska Zoo in Anchorage has custom light displays that line the zoo trails in the darkness of the Alaskan winter. Visitors enjoy the animal-themed displays, animated displays set to music, canopies of light over some of the trails, the playground lit up and lots of fully lit trees around zoo grounds.
Ice Lanterns: Learn how to make this unique and very "cool" holiday decoration at the Eagle River Nature Center on December 19. This year they will be lighting nearly a hundred lanterns to prepare for the evening's lantern walk. Call 694-2108 to register or check the website HERE.