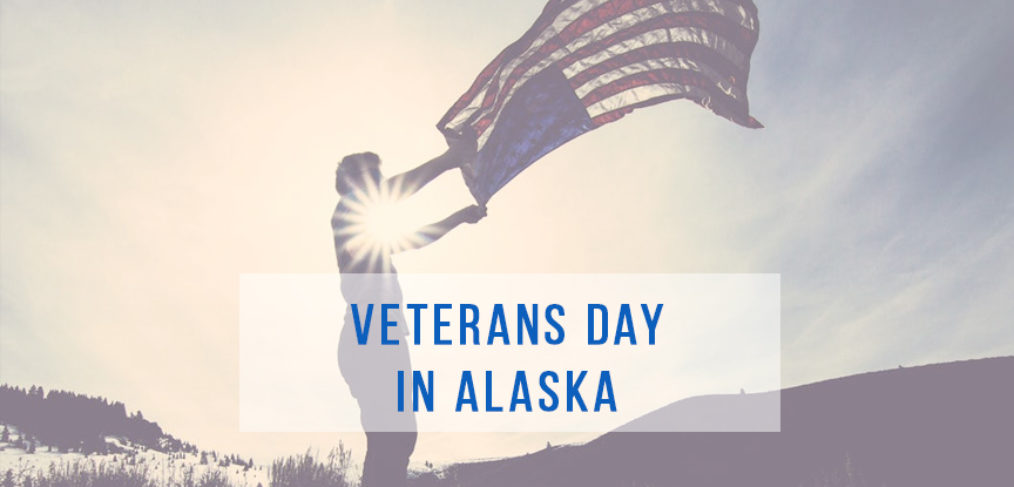 Veterans Day in Alaska: Let's Celebrate our Vets!
Veterans Day in Alaska – Honor our Vets
On November 11 people all across our country will celebrate Veterans Day, a holiday honoring all veterans of past wars as well as those currently serving. Here in Alaska, a state with an exceptionally large military population, we love to celebrate our vets all year round. Veterans Day this month, however, gives us extra incentive to honor and show gratitude for the large veteran population we're lucky to have.
History of Veterans Day
Before Veterans Day there was Armistice Day, commencing the year after WWI ended. On the 11th hour of the 11th day of the 11th month in 1918, an armistice, or agreement made in a war to stop fighting for a period of time, was made between the Allied nations and Germany. Armistice Day was made a national holiday the following year, and became a legal holiday in the United States in 1938. After World War II and the Korean War, Armistice Day became Veterans Day, meant to honor American veterans of all wars as well as those currently serving or those who have served in the past. (Click HERE for a detailed history of Veterans Day.)
5 ways to show appreciation for our veterans
There's a great quote by Roy Rogers that says: "We can't all be heroes; someone has to sit on the curb and clap as they go by." In that spirit, the best way to honor and express appreciation for veterans is to show up. Attend, volunteer or otherwise participate in a Veterans Day event in your area to publicly show your support.
Fly your flag, but be sure to do it the right way. For instance, did you know in most cases you are only to display the flag from sunrise to sunset? However, if a patriotic effect is desired on special occasions, the flag may be displayed twenty-four hours a day as long as it is properly illuminated during the darkness. More about the proper rules for display can be found HERE on military.com.
Take the time to talk – and listen – to veterans who want to share their stories. We all know someone who has served or is serving in the military, but have you taken the time to ask them about it and truly listen to the stories they have to tell? Often the best way to show appreciation is to give our veterans the interest and quiet attention they deserve.
Write a letter. In a world that increasingly relies on emails and text messages, old-school hand-written notes have the power to make a lasting impression. If you know a veteran, write them a letter expressing your appreciation. If you don't, contact a local military base and find out where you can send letters to be distributed to those who need it. Even an anonymous note can truly make someone's day.
Treat veterans with a treat! Buy their coffee when you see a veteran at your local coffee shop. Pick up their lunch tab. Host a brunch or party in their honor. Whatever you decide to do, giving veterans something to make their day brighter and make them smile is a great way to show appreciation.
Local Veterans Day events
This is a short list of events we've rounded up in the Anchorage / Eagle River area for Veterans Day. Be sure to check your local papers and community website calendars for more.
Anchorage Veterans Day Parade, Saturday, November 04, begins at 11 a.m. and follows a route around the Delaney Park Strip in downtown Anchorage.
The Department of Military and Veterans Affairs will host a Veterans Day ceremony on Nov. 11, 10 a.m., at the National Guard armory on JBER, open to the public, details HERE.
All National Parks are free to Veterans on Veterans Day.
Free meals for veterans: Check this page at the Military Wallet website to see a list of restaurants across the nation and right here in our area providing free meals on Veterans Day.
The Anchorage Symphony will pay tribute to the men and women of our armed forces with their Veterans Day Salute on Nov. 11 at the Atwood Concert Hall. (more info HERE)
Salute to our Service Members military appreciation event from 12-4 p.m. at all 3 South Central Alaska Harley-Davidson locations. Free gifts, cake and parts & accessory upgrades on new Harley-Davidson motorcycles for all military during our event; 20% off all regular price Harley-Davidson licensed apparel; Free motorcycle storage for all deployed military and ½ off storage for all active duty service members. More info at (907) 373-3366.
Helping military with Alaska relocation and real estate services
In 1985, the United States Army brought me to Alaska, and I fell in love with 'The Last Frontier.' Since then I've lived, worked and played among the people and place I call home, providing home buying and selling services as well as assisting my fellow Veterans with military or bush relocations. If you'd like to know more about this area, give me a call at 907-694-4800, I'd love to introduce you to our frontier.